Thank you for your interest in Minglewood Scottish Terriers. Whether you're browsing as a casual visitor or you are searching for a Scottish Terrier puppy, we'd like to offer the following advice. This page was created out of necessity as we have received many inquiries for puppies due in part to our listing under Scottish Terrier breeders in Yahoo and other search engines.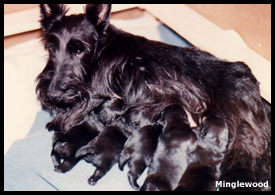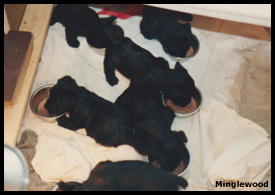 While we occasionally have puppies available, there are no litters
planned for the foreseeable future. That does not mean that we cannot
provide prospective owners with pertinent and viable information when
seeking a Scottish Terrier breeder. The best way to obtain a breeder
referral, is to contact the Scottish Terrier Club of America.

In addition to containing a wealth of information regarding the breed,
the STCA's website maintains a listing of Regional Scottish Terrier
Clubs located around the country as well as tips for buying a puppy.
Locate the Regional Club closest to you and contact their corresponding
secretary by telephone for the name of that club's breeder referral
person. This is the most prudent way to obtain the names of quality
breeders in your immediate area.